What is an electronic speed Governor?
A governor or a controller is a device used to measure and regulate the speed of a machine, such as an engine. In offshore context, it regulates the engine depending upon the condition of the sea, thereby automatically changing fuel admission to maintain desirable load.
All marine vessels need some sort of speed control system to control and govern the speed of the marine diesel engine. This is where governors play important role once the speed of the engine has been set, the job of the governor is to maintain that speed despite the variations in load.
The governor controls the speed variation and keeps the speed within restrained limits despite these variations.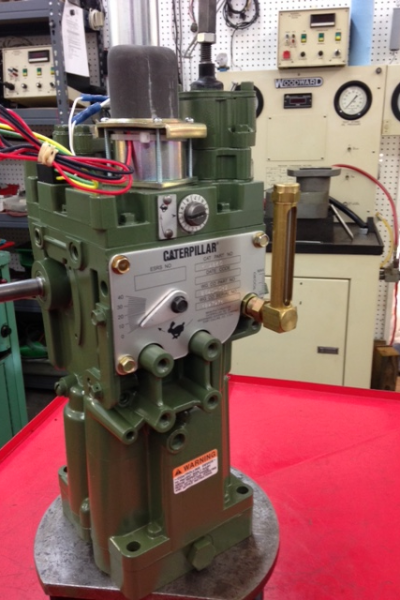 Our diesel engine governor overhauls and repairs are performed in dedicated dust-free governor bays and are subject to strict quality inspection. All diesel engine governors that come for overhaul includes complete dismantle, chemical clean and inspection. A full report is made with itemised spares requirement and only with the customer's approval will we reassemble, calibrate and test the governor.
Servicing ranging from fault diagnosis to visits on site :
Here at Naskai, we have a team of experienced service engineers that can resolve all marine issues both offshore and onshore. From spare change to complete repair everything is handled by our engineers.
We provide Supple of Genuine governor from well-known manufacturers. Each equipment undergoes testing and quality check before delivering to the Customers. Based on customer requirement governor are supplied.
Mechanical governors :
These governors consist of weighted balls, or flyweights, that experience a centrifugal force when rotated by the action of the engine crankshaft. This centrifugal force acts as the controlling force and is used to regulate the fuel supplied to the engine via a throttling mechanism connected directly to the injection racks. These weight assemblies are small and hence the force generated is not enough to control the injection pumps of large engines. 
Hydraulic governors :
In hydraulic governors, the weighted assembly is connected to a control valve, rather than the fuel control racks directly, as is the case in a mechanical governor. This valve is responsible for directing hydraulic fluid which controls the fuel racks and hence the power or speed of an engine. A greater force can be generated and these governors find application in medium to large size engines.
Electro-Hydraulic governors :
This type of governors has an actuator with two sections- a mechanical hydraulic backup and an electric governor. In case of failure of the electric governor, the unit can be in manual control, on the mechanical-hydraulic backup governor. The mechanical governor is set at a speed which is higher than the rated speed, the speed and load of the entire system are controlled by the electric governor.
Governor exchange program :
We can offer new or reconditioned governors.
Reconditioned governors are built to new specifications using new seals, gaskets, bearings, springs etc. Final assemblies are fully tested In-House.
Where possible, service exchange units will be supplied in order to reduce expensive downtime. 
To know more about our services get in touch